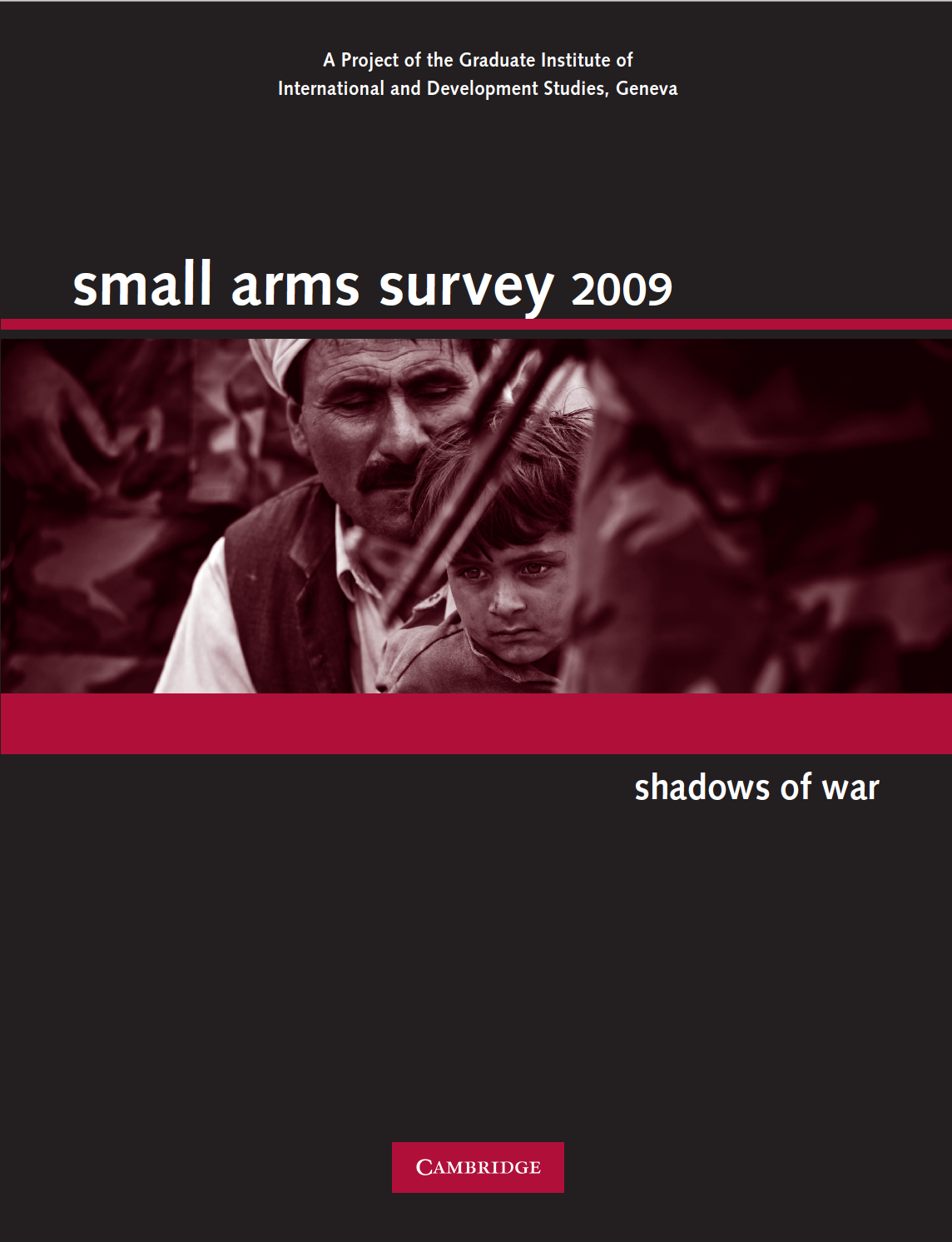 Small Arms Survey 2009: Shadows of War
Arabic
English
French
German
Portuguese
Russian
Spanish
The Small Arms Survey 2009: Shadows of War contains two thematic sections.
The first highlights the challenges of ensuring security after the formal end of war and comprises an overview chapter and three case studies (Aceh, Afghanistan, and Southern Lebanon).
The second thematic section explores various aspects of small arms transfers, including the value of the authorized trade, national controls, and weapons tracing. Additional chapters focus on small arms measures and impacts.

About the Small Arms Survey 2009
ENGLISH, ARABIC, FRENCH, GERMAN, PORTUGUESE, RUSSIAN, SPANISH
Introduction
ENGLISH, FRENCH

Chapter 1. Sifting the Sources: Authorized Small Arms Transfers
Full chapter: ENGLISH
Full chapter: FRENCH
Annexes 1.1 and 1.2: Major Exporters and Importers (ENGLISH)
Annexe 1.3: Methodology (ENGLISH)
Annexe 1.4: Transfers to Georgia, Download (ENGLISH)
Summary: ENGLISH, ARABIC, FRENCH, GERMAN, PORTUGUESE, RUSSIAN, SPANISH

Chapter 2. Devils in Diversity: Export Controls for Military Small Arms
Full chapter: ENGLISH
Full chapter: FRENCH
Summary: ENGLISH, ARABIC, FRENCH, GERMAN, PORTUGUESE, RUSSIAN, SPANISH
Compilation of Arms Trade Treaty-related Small Arms Survey chapters (2007–10) (ENGLISH)

Chapter 3. Revealing Provenance: Weapons Tracing during and after Conflict
Full chapter: ENGLISH
Full chapter: ARABIC
Full chapter: FRENCH
Summary: ENGLISH, ARABIC, FRENCH, GERMAN, PORTUGUESE, RUSSIAN, SPANISH

Chapter 4. Two Steps Forward: UN Measures Update
Full chapter: ENGLISH
Full chapter: FRENCH
Summary: ENGLISH, ARABIC, FRENCH, GERMAN, PORTUGUESE, RUSSIAN, SPANISH

Chapter 5. Man, the State, and War: The Three Faces of Small Arms Disarmament
Full chapter: ENGLISH
Full chapter: FRENCH
Summary: ENGLISH, ARABIC, FRENCH, GERMAN, PORTUGUESE, RUSSIAN, SPANISH

Chapter 6. Large and Small: Impacts of Armed Violence on Children and Youth
Full chapter: ENGLISH
Full chapter: FRENCH
Summary: ENGLISH, ARABIC, FRENCH, GERMAN, PORTUGUESE, RUSSIAN, SPANISH

Chapter 7. Securing the Peace: Post-Conflict Security Promotion
Full chapter: ENGLISH
Full chapter: FRENCH
Annexe 7.1: Methodology (ENGLISH)
Summary: ENGLISH, ARABIC, FRENCH, GERMAN, PORTUGUESE, RUSSIAN, SPANISH

Chapter 8. The Limits of DDR: Reintegration Lessons from Aceh
Full chapter: ENGLISH
Full chapter: FRENCH
Summary: ENGLISH, ARABIC, FRENCH, GERMAN, PORTUGUESE, RUSSIAN, SPANISH

Chapter 9. DDR in Afghanistan: When State-building and Insecurity Collide
Full chapter: ENGLISH
Full chapter: FRENCH
Summary: ENGLISH, ARABIC, FRENCH, GERMAN, PORTUGUESE, RUSSIAN, SPANISH

Chapter 10. Testing Received Wisdom: Perceptions of Security in Southern Lebanon
Full chapter: ENGLISH
Full chapter: FRENCH
Summary: ENGLISH, ARABIC, FRENCH, GERMAN, PORTUGUESE, RUSSIAN, SPANISH

Index
ENGLISH
Keywords:
Yearbook
Trade update