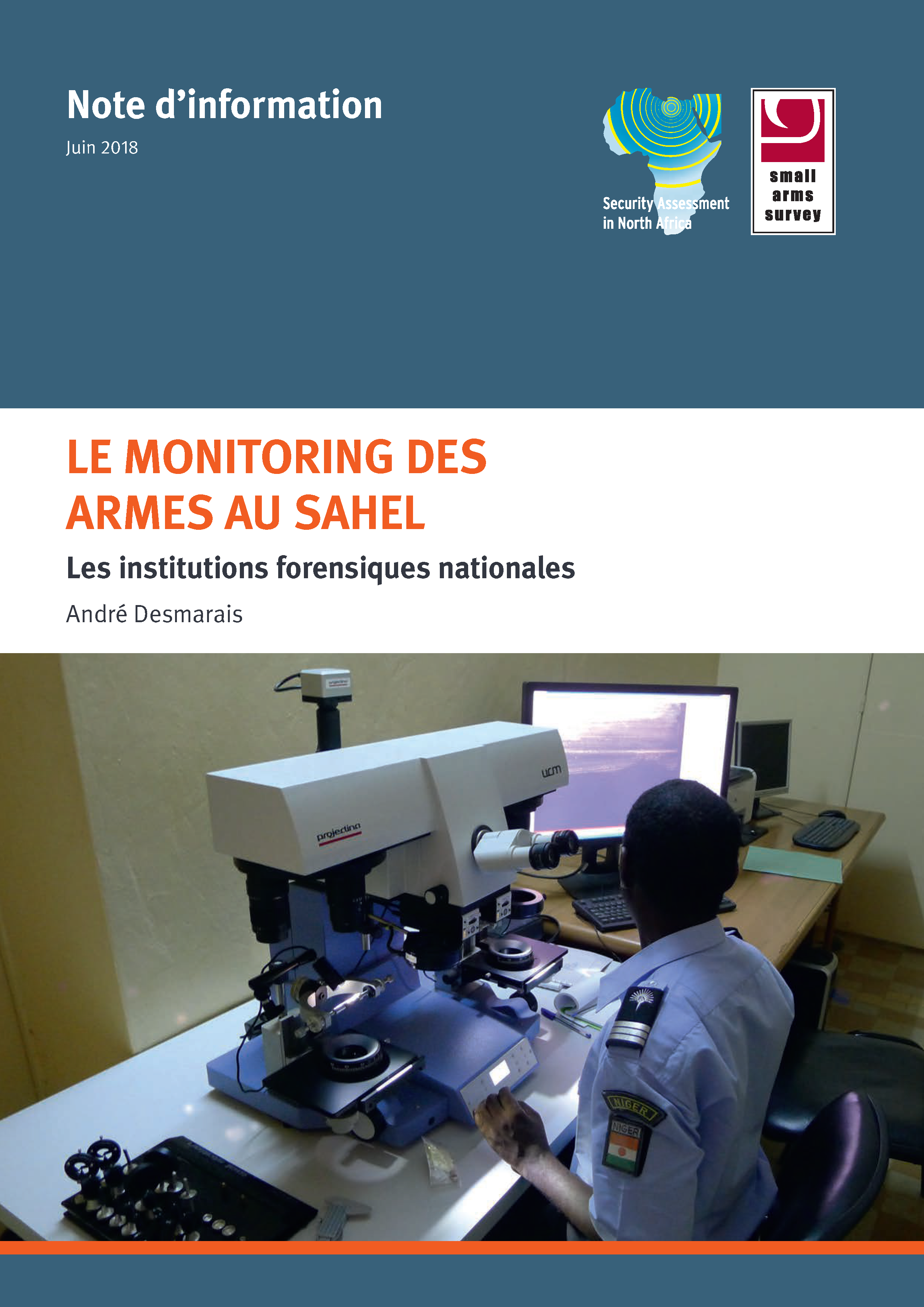 Le monitoring des armes au Sahel: les institutions forensiques nationales
Publications
Briefing Paper
Le monitoring des armes au Sahel: les institutions forensiques nationales, une Note d'information du projet Évaluation de la sécurité en Afrique du Nord (SANA), analyse les capacités et les pratiques des institutions forensiques de trois États du Sahel francophone – la Mauritanie, le Niger et le Tchad – qui comptent, parmi leur personnel, des experts particulièrement compétents sur la question des armes à feu et des munitions à l'échelle locale.
Ce rapport s'inscrit dans la logique des objectifs de développement durable, et notamment de la cible 16.4 qui appelle à une réduction significative et mesurable du trafic d'armes. Élaboré en coopération avec INTERPOL, il s'appuie notamment sur des visites et des entretiens effectués par l'auteur en Mauritanie et au Tchad en décembre 2017, ainsi que sur des entretiens et échanges à distance avec des responsables nigériens.
----------------------
Le monitoring des armes au Sahel: les institutions forensiques nationales, a Briefing Paper from the Security Assessment in North Africa (SANA) project, analyses the capacities and practices of forensic institutions in three French-speaking Sahel states—Mauritania, Niger, and Chad—whose staff include highly skilled local firearms and ammunition experts.
This Briefing Paper feeds into the framework of the Sustainable Development Goals, particularly Goal 16.4, which calls for a significant and measurable reduction of arms flows. Drafted in cooperation with INTERPOL, this study is based on visits and interviews conducted in Mauritania and Chad in December 2017, and on interviews and remote exchanges with officials in Niger.
----------------------
Disponible en:  ANGLAIS | FRANCAIS
Have your say about Small Arms Survey resources: take 5 minutes to fill out our questionnaire.
Keywords:
forensics
ballistics
Sahel