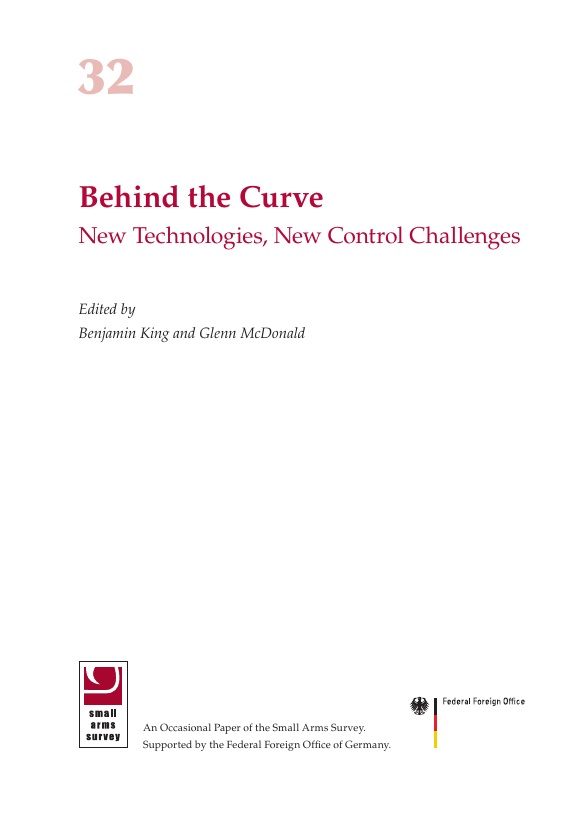 Behind the Curve: New Technologies, New Control Challenges (Occasional Paper 32)
Publications
Occasional Paper
Behind the Curve: New Technologies, New Control Challenges, this Occasional Paper from the Small Arms Survey, looks at three recent developments in small arms manufacturing, technology, and design—polymer frames, modular weapons, and 3D printing—as well as the use of new technologies for improved small arms control.
For each topic, the publication reviews relevant control challenges and options, to assist UN member states preparing for the Second Open-ended Meeting of Governmental Experts under the Programme of Action (PoA) on small arms, to be convened at UN headquarters in New York, from 1 to 5 June 2015. As mandated by the UN General Assembly, the meeting will consider 'recent developments in small arm and light weapon manufacturing, technology and design', including '[p]ractical steps to ensure the continued and enhanced effectiveness of national marking, record-keeping and tracing systems in the light of such developments'.
These developments pose a series of challenges to the implementation of existing control instruments, such as the PoA and the International Tracing Instrument (ITI).  Two of the developments were identified at the PoA's first Open-ended Meeting of Governmental Experts, held in 2011: the use of polymers to produce firearm frames and receivers, and modular weapon design. Since 2011, the production of firearms using additive manufacturing methods (3D printing), particularly by unlicensed parties, has generated concern among policy-makers and law enforcement officials.
New technologies can, however, also provide improved options for small arms control, including for weapons marking and record-keeping, stockpile management, and to prevent unauthorized use.
Translated into Arabic by the EU-LAS project.
Available in: ARABIC | ENGLISH
Keywords:
Technology
PoA
ITI
EU-LAS