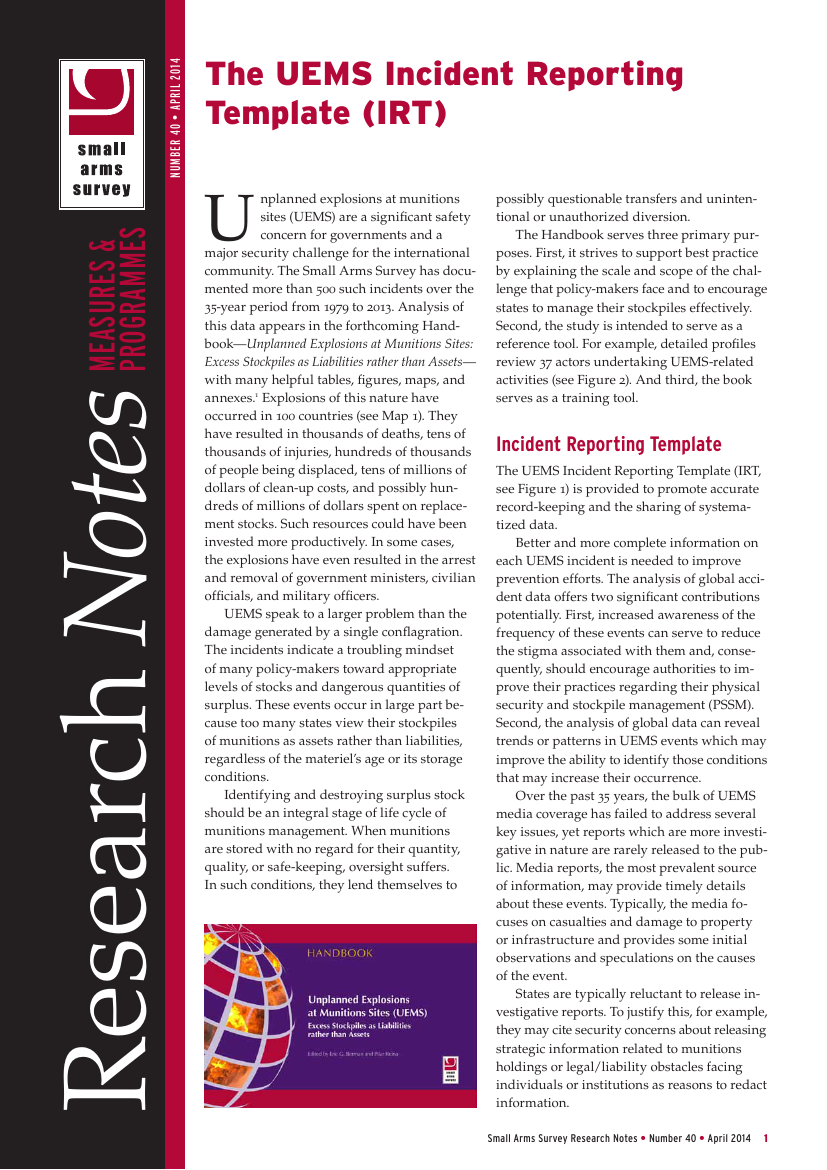 The UEMS Incident Reporting Template (IRT) (Research Note 40)
Publications
Research Note
Arabic
BCMS
English
French
Portuguese
Russian
Spanish
Swahili
Unplanned explosions at munitions sites (UEMS) are a significant safety concern for governments and a major security challenge for the international community. The Small Arms Survey has documented more than 500 such incidents in 100 countries over the 35-year period from 1979 to 2013.
UEMS events have resulted in thousands of deaths, tens of thousands of injuries, hundreds of thousands of people being displaced, tens of millions of dollars of clean-up costs, and possibly hundreds of millions of dollars spent on replacement stocks. In some cases, the explosions have resulted in the arrest and removal of government ministers, civilian officials, and military officers.
Better and more complete information on each UEMS incident is needed to improve prevention efforts, and the Small Arms Survey has developed an Incident Reporting Template (IRT) to standardize and encourage the collating of information on such events. The UEMS Incident Reporting Template, a Small Arms Survey Research Note, provides an overview of the IRT.
The IRT was developed as part of the Small Arms Survey's forthcoming Handbook Unplanned Explosions at Munitions Sites (UEMS): Excess Stockpiles as Liabilities rather than Assets. The Handbook, due for release in June 2014, supports best practice, explaining the scale and scope of the challenge that policy-makers face, and encouraging states to manage their stockpiles effectively.
The Small Arms Survey serves as the principal international source of public information on all aspects of small arms and armed violence—including stockpile management—and as a resource centre for governments, policy-makers, researchers, and civil society.
Also available in ARABIC, BCMS, FRENCH, PORTUGUESE, RUSSIAN, SPANISH, and SWAHILI.
Have your say about Small Arms Survey publications and products: take 5 minutes to fill out our questionnaire.
Keywords:
UEMS