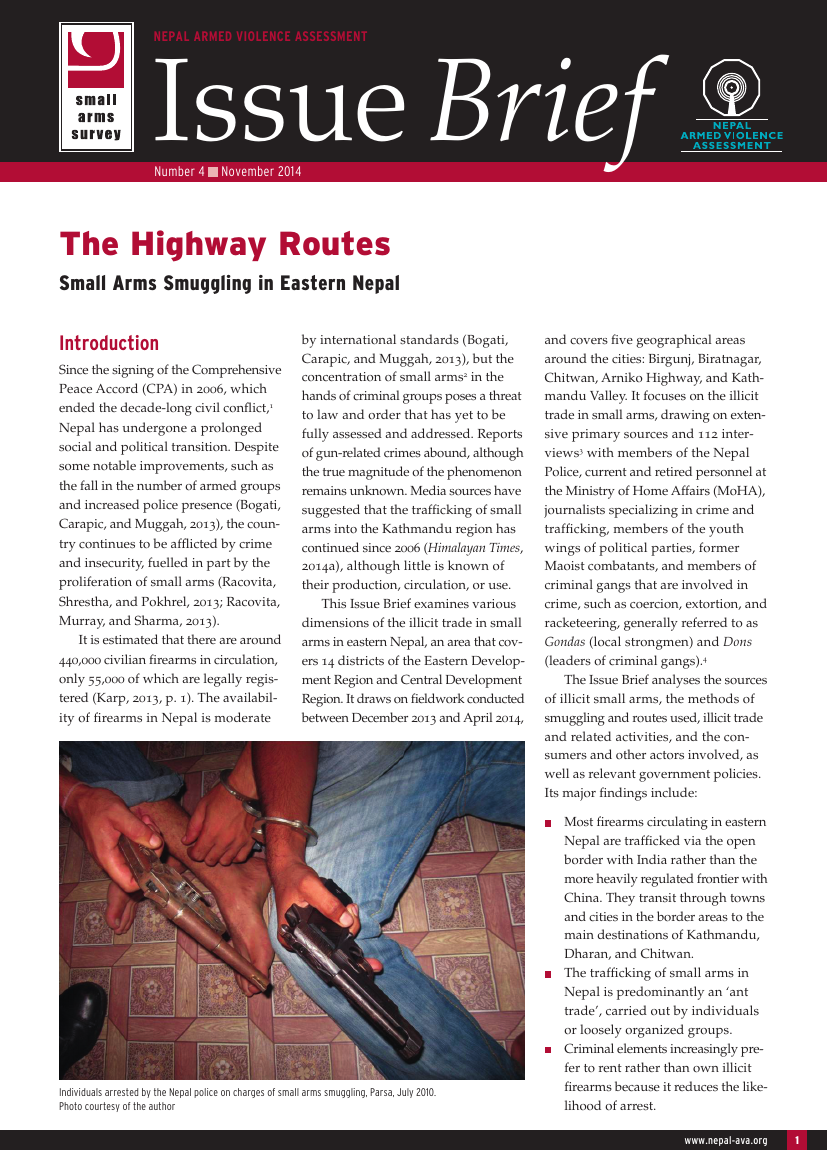 The Highway Routes: Small Arms Smuggling in Eastern Nepal (NAVA Issue Brief 4)
In 2013, the Small Arms Survey  estimated that there are around 440,000 civilian firearms in circulation in Nepal, only 55,000 of which are legally registered. The availability of firearms in the country is moderate by international standards, but the concentration of small arms in the hands of criminal groups poses a threat to law and order that has yet to be fully assessed and addressed.
Despite some notable improvements since the signing of the Comprehensive Peace Accord (CPA) in 2006, such as the fall in the number of armed groups and increased police presence, the country continues to be afflicted by crime and insecurity, fuelled in part by the proliferation of small arms.
The Highway Routes: Small Arms Smuggling in Eastern Nepal, a new Issue Brief from the Small Arms Survey's Nepal Armed Violence Assessment project, examines various dimensions of the illicit trade in small arms in eastern Nepal, based on fieldwork conducted between December 2013 and April 2014, including over 100 interviews with representatives of law enforcement and the underworld.
The Issue Brief analyses the sources of illicit small arms, the methods of smuggling and routes used, illicit trade and related activities, and the consumers and other actors involved, as well as relevant government policies. Its major findings include:
Most firearms circulating in eastern Nepal are trafficked via the open border with India rather than the more heavily regulated frontier with China. They transit through towns and cities in the border areas to the main destinations of Kathmandu, Dharan, and Chitwan.
The trafficking of small arms in Nepal is predominantly an 'ant trade', carried out by individuals or loosely organized groups.
Criminal elements increasingly prefer to rent rather than own illicit firearms because it reduces the likelihood of arrest.
The illicit traffic in small firearms is dominated by craft (country-made) and counterfeit guns.
Government and police efforts to curb the trafficking of small arms and ammunition have included a range of legal and policy responses, with mixed results. 'Buy-and-bust' sting operations have succeeded in arresting and disbanding a number of smuggling rings, although some maintain that it is generally the carriers who are arrested rather than the main organizers.
See also the Annexe on methods and key informant interviews.
Have your say about Small Arms Survey publications and products: take 5 minutes to fill out our questionnaire.
Keywords:
Illicit trade
Armed violence
Illicit trafficking