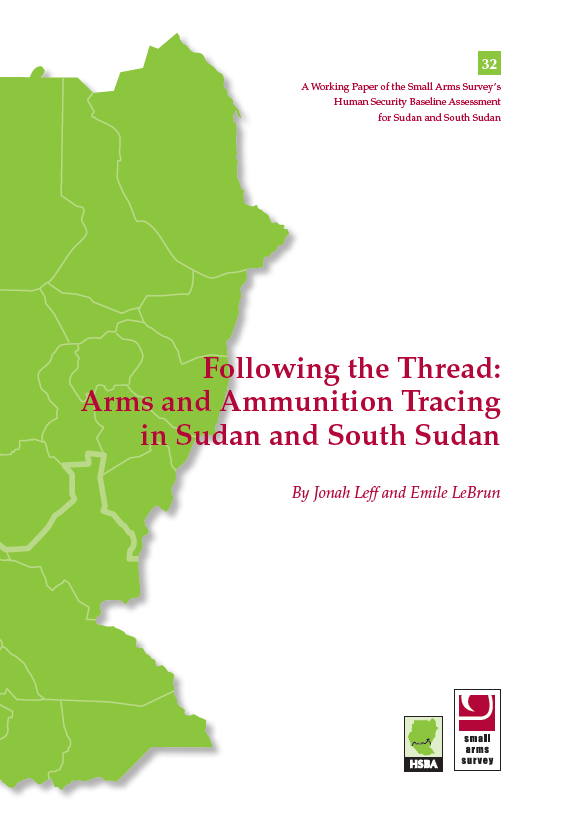 Following the Thread: Arms and Ammunition Tracing in Sudan and South Sudan (HSBA Working Paper 32)
Publications
Working Paper
Following the Thread: Arms and Ammunition Tracing in Sudan and South Sudan provides an overview of the project's findings with regard to the types of weapons observed, their country of manufacture, and patterns of holdings among different actors that are indicative of common supply sources. It synthesizes the findings of more than two years' worth of fieldwork and follow-up investigations by HSBA project staff and consultants, initially published in web-based reports. In the interest of timeliness, those initial reports were rapidly released following field investigations. This Working Paper takes the opportunity to reflect more fully on the tracing project and the wider implications of its findings for Sudan and South Sudan, parties committed to supporting armed violence reduction efforts there, and arms and ammunition exporters. In addition, the paper provides a snapshot of what is known about domestic Sudanese arms and ammunition production.
Also available in ARABIC.
Have your say about Small Arms Survey publications and products: take 5 minutes to fill out our questionnaire.
Keywords:
HSBA