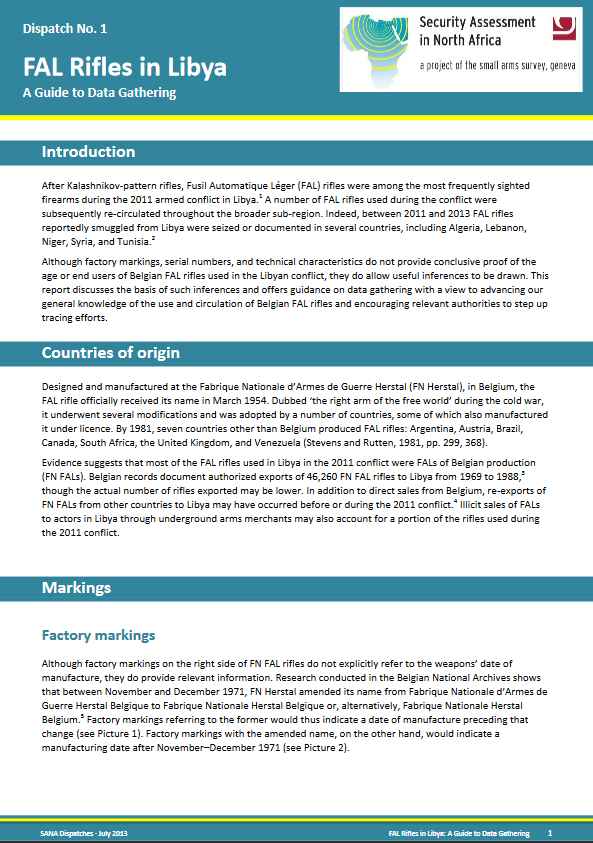 FAL Rifles in Libya: A Guide to Data Gathering- (SANA Dispatch 1)
Publications
SANA Dispatch
After Kalashnikov-pattern rifles, Fusil Automatique Léger (FAL) rifles were among the most frequently sighted firearms during the 2011 armed conflict in Libya.

The FAL rifle was originally designed and manufactured at the Fabrique Nationale d'Armes de Guerre Herstal (FN Herstal), in Belgium,  and was dubbed 'the right arm of the free world' during the cold war. Since its release in 1954 it has undergone several modifications and was adopted by a number of countries, some of which also manufactured it under licence.

A number of FAL rifles used during the conflict in Libya, most of which appear to be of Belgian origin, were subsequently recirculated throughout the broader subregion.

'FAL Rifles in Libya: A Guide to Data Gathering' is a new online Dispatch from the Security Assessment in North Africa.  The eight-page report examines and discusses the factory markings, serial numbers, and technical characteristics of FAL rifles seen in Libya.

The Dispatch also offers guidance on data gathering with a view to advancing general knowledge of the use and circulation of Belgian FAL rifles and encouraging relevant authorities to improve tracing efforts.

The Security Assessment in North Africa is a multi-year project of the Small Arms Survey to support those engaged in building a more secure environment in North Africa and the Sahel-Sahara region.
Also available in ARABIC.
Keywords:
SANA