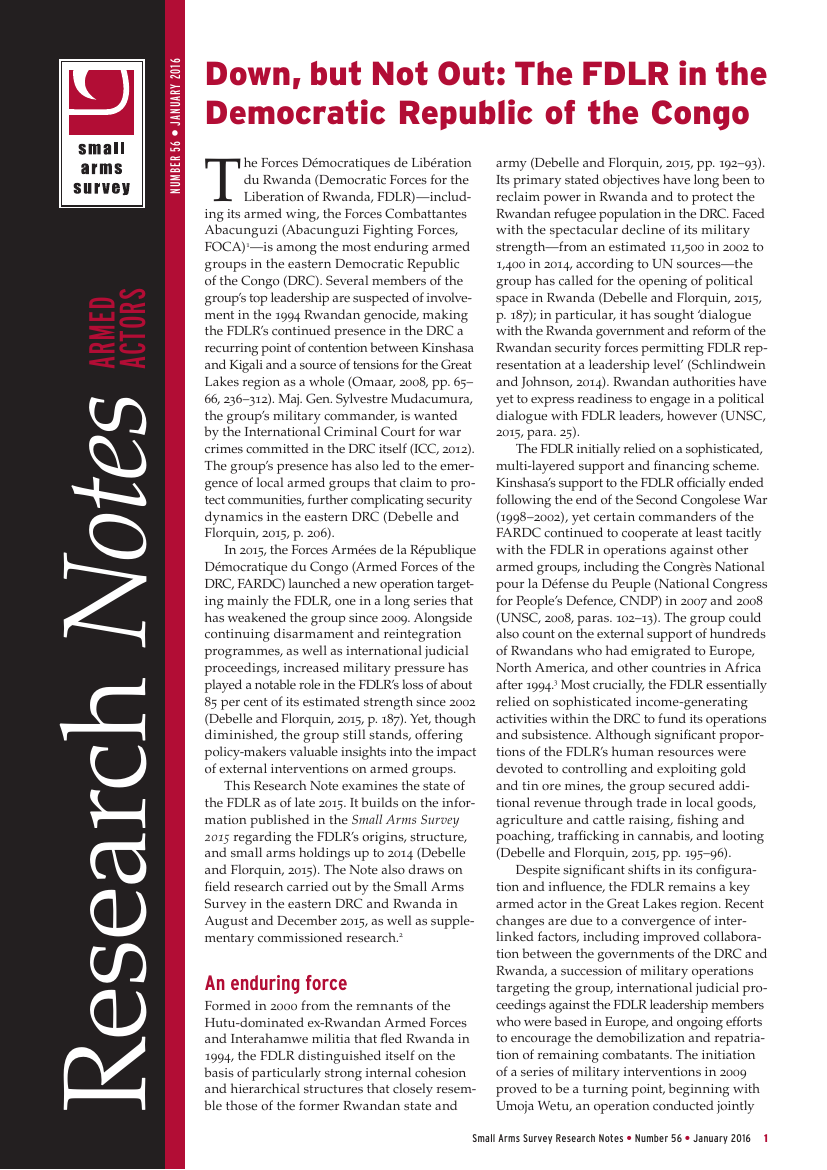 Down, but Not Out: The FDLR in the Democratic Republic of the Congo (Research Note 56)
Publications
Research Note
The Forces Démocratiques de Libération du Rwanda (Democratic Forces for the Liberation of Rwanda, FDLR)—including its armed wing, the Forces Combattantes Abacunguzi (Abacunguzi Fighting Forces, FOCA)—is among the most enduring armed groups in the eastern Democratic Republic of the Congo (DRC). Several members of the group's top leadership are suspected of involvement in the 1994 Rwandan genocide, making the FDLR's continued presence in the DRC a recurring point of contention between Kinshasa and Kigali and a source of tensions for the Great Lakes region as a whole. The group's actions have also led to the emergence of local armed groups that claim to protect communities, further complicating security dynamics in the eastern DRC.

In 2015, the Forces Armées de la République Démocratique du Congo (Armed Forces of the DRC, FARDC) launched a new operation targeting mainly the FDLR, one in a long series that has weakened the group since 2009. Alongside continuing disarmament and reintegration programmes, as well as international judicial proceedings, increased military pressure has played a notable role in the FDLR's loss of about 85 per cent of its estimated strength since 2002. Yet, though diminished, the group still stands, offering policy-makers valuable insights into the impact of external interventions on armed groups.

Down, but Not Out: The FDLR in the Democratic Republic of the Congo, a Research Note by the Small Arms Survey, examines the state of the FDLR as of late 2015. It builds on the information published in the Small Arms Survey 2015 regarding the FDLR's origins, structure, and small arms holdings up to 2014. The Note also draws on field research carried out by the Small Arms Survey in the eastern DRC and Rwanda in August and December 2015, as well as supplementary commissioned research.
Have your say about Small Arms Survey publications and products: take 5 minutes to fill out our questionnaire.
Keywords:
FDLR
Armed groups