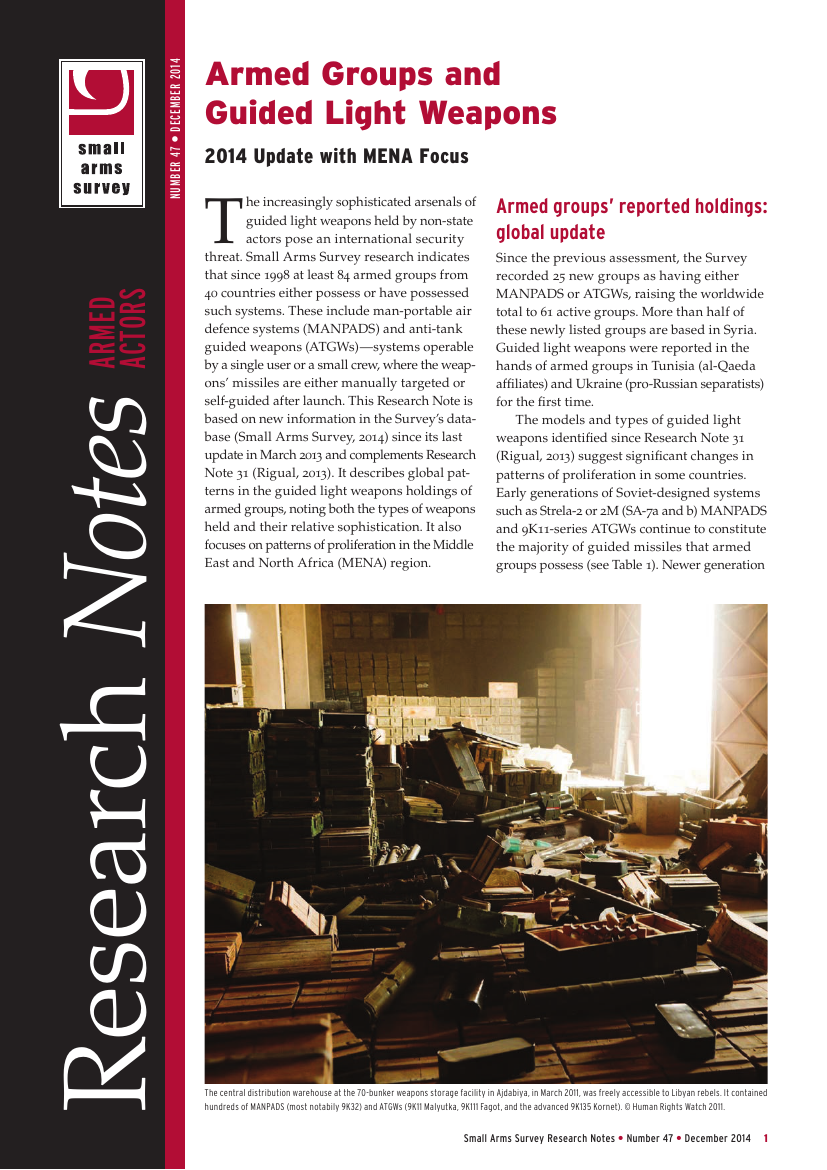 Armed Groups and Guided Light Weapons: 2014 Update with MENA Focus (Research Note 47)
Publications
Research Note
The increasingly sophisticated arsenals of guided light weapons held by non-state actors pose an international security threat. Such systems—man-portable air defence systems (MANPADS) and anti-tank guided weapons (ATGWs)— are operable by a single user or a small crew, and the weapons' missiles are either manually targeted or self-guided after launch. These weapons have been used by armed groups to attack commercial airlines, military aircraft, and governmental targets, as well as to degrade military and peacekeeping operations worldwide.
The Research Note Armed Groups and Guided Light Weapons: 2014 Update with MENA Focus presents information collected by the Survey's database since March 2013 to December 2014. It describes global patterns in the guided light weapons holdings of armed groups, noting both the types of weapons and their relative sophistication. It also discusses patterns of proliferation in the MENA region.
The Research Note finds:
At least 84 non-state armed groups (including those no longer active) from 40 countries have acquired guided light weapons worldwide since 1998, 25 more than recorded in March 2013. Twenty-four of these new groups are in the Middle East and North Africa (MENA) region, with more than half of them based in Syria.
Of the 84 groups, 61 were active as of December 2014—a sharp increase from March 2013 when only 36 active groups were known to possess the systems. 
For the first time, guided light weapons—man-portable air defence systems (MANPADS) and anti-tank guided weapons (ATGWs)— were reported in the hands of armed groups in Tunisia (al-Qaeda affiliates) and Ukraine (pro-Russian separatists).
A full listing of the data, along with the original dataset presenting details for the period from 1998 to 2013, is available on the Small Arms Survey website.
Also available in ARABIC
Have your say about Small Arms Survey publications and products: take 5 minutes to fill out our questionnaire.
Keywords:
armed groups
guided weapons