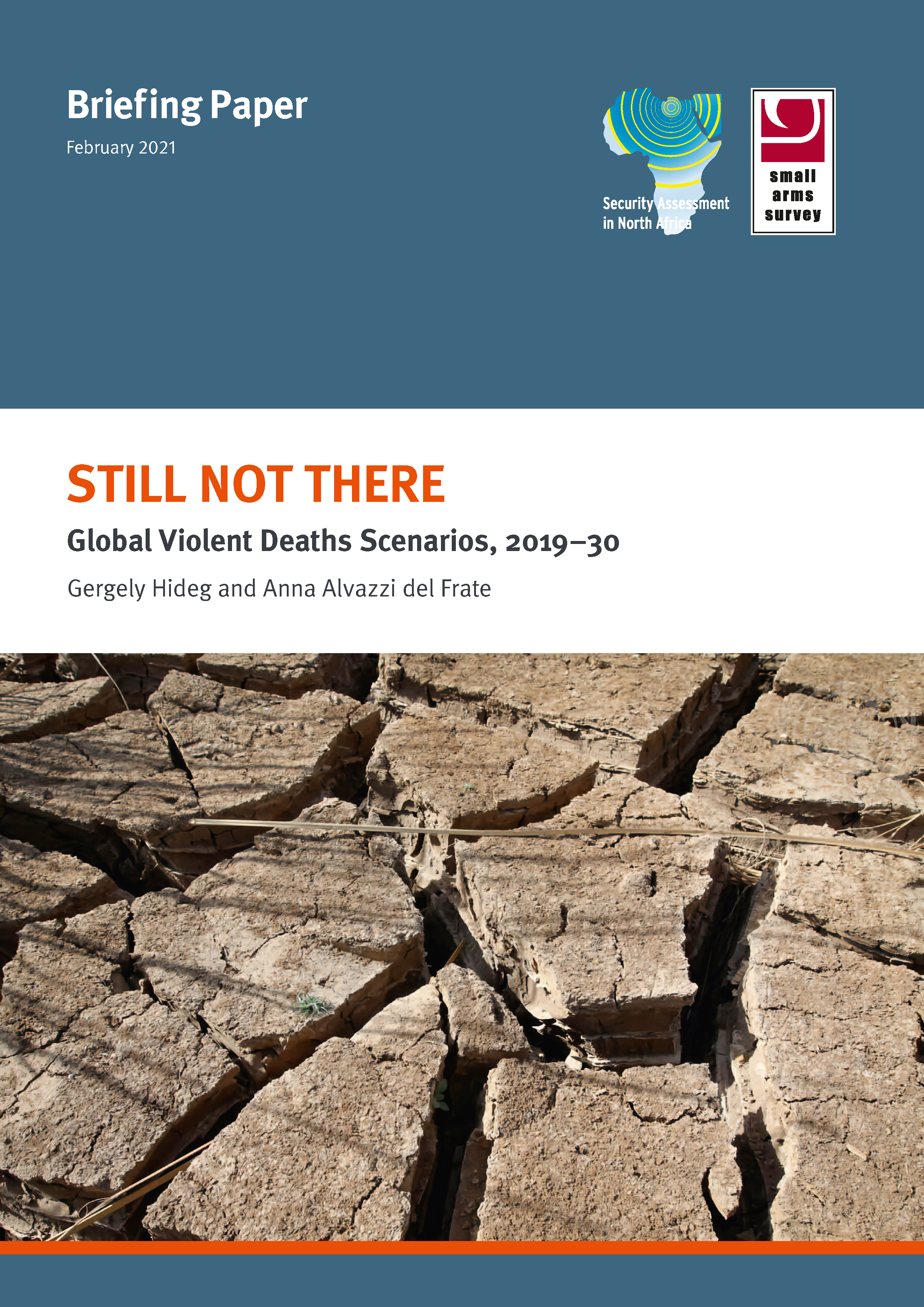 Still Not There: Global Violent Deaths Scenarios, 2019–30
Publications
Briefing Paper
The year 2018 was characterized by a decrease in lethal violence in several of the world's hotspots, primarily due to a significant de-escalation of the armed conflicts in Iraq, Myanmar, South Sudan, and Syria. The homicide rate also decreased marginally due to population growth outpacing the nominal increase in killings between 2017 and 2018. These two trends jointly resulted in a modest positive change in the rate of violent deaths globally in 2018 which, at 7.8 violent deaths per 100,000 population, is at its lowest since 2012.
Still Not There: Global Violent Deaths Scenarios, 2019–30, a Briefing Paper by the Survey's Security Assessment in North Africa (SANA) project provides an updated trend analysis of global violent deaths and develops global-level scenarios for the years leading to 2030. Based on 2018 figures from the Small Arms Survey's Global Violent Deaths (GVD) database, the paper also includes a specific analysis of developments in Northern Africa and the five nations of the G5 Sahel region. It finds that under a business-as-usual scenario, Northern Africa's violent death rate would remain relatively stable by 2030. By contrast, under the same scenario, the fatality rate in the G5 Sahel region would increase significantly. The paper also looks at how, for the first time, the GVD database now permits the analysis of disaggregated data for female victims of firearm killings for the period 2004–18, further increasing its gender relevance.
Available in:  ARABIC | ENGLISH | FRENCH
Have your say about Small Arms Survey resources: take 5 minutes to fill out our questionnaire.
Keywords:
GVD
Violent deaths
Armed violence
Homicide
SANA
SDGs
Gender