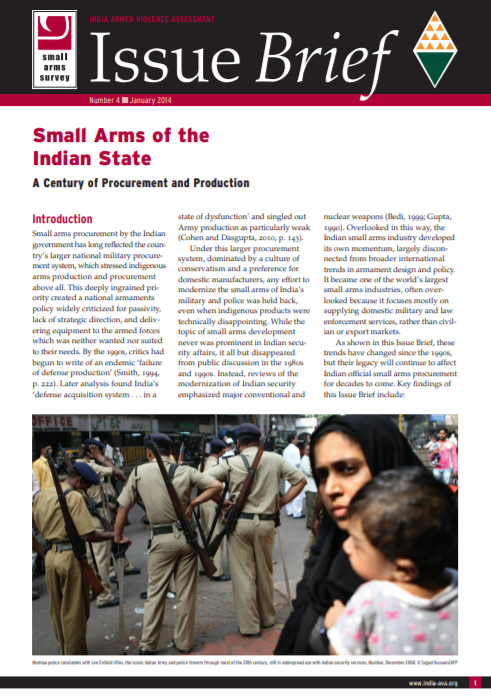 Small Arms of the Indian State: A Century of Procurement and Production (IAVA Issue Brief 4)
India is home to one of the world's largest small arms industries, but it is often overlooked in international discussion because it mostly supplies domestic military and law enforcement services, rather than civilian or export markets. Small arms procurement by the Indian government has long reflected the country's larger national military procurement system, which stresses indigenous arms production. This policy has changed since the 1990s, but its legacy will continue to affect Indian official small arms procurement for decades to come.
Small Arms of the Indian State: A Century of Procurement and Production, a new Issue Brief from the Small Arms Survey's India Armed Violence Assessment project, examines the main types of firearms in Indian service, and estimates the total size of the firearms inventories belonging to Indian government agencies.
Findings of Small Arms of the Indian State include:
Total official Indian inventories are estimated to contain 5.6 million small arms. Approximately 2.6 million of these belong to the military, 1.3 million to paramilitary agencies, and 1.7 million to police.
The archaic bolt-action Lee-Enfield rifle, with roughly 1.9 million currently in service, will remain the most numerous official Indian firearm for many years to come.
Since the 1990s Indian small arms procurement has become decentralized. As Indian state governments and government agencies diversify their small arms buying, their arsenals have become more modern, but less homogeneous.
Since the 2008 Mumbai terror attacks, Indian security agencies rely less on domestic production of arms and more on modernization through imports.
Almost 6 million new firearms are planned for Indian military, paramilitary, and police, as part of modernization initiatives.
This research uncovered no reports of surplus small arms destruction by the Indian armed services.
This Issue Brief focuses on firearms, for which data is more readily available; and does not discuss in any depth less documented light weapons, such as heavy machine guns, mortars, and rockets.
Also available in HINDI.
Have your say about Small Arms Survey publications and products: take 5 minutes to fill out our questionnaire.
Keywords:
IAVA
Armed violence