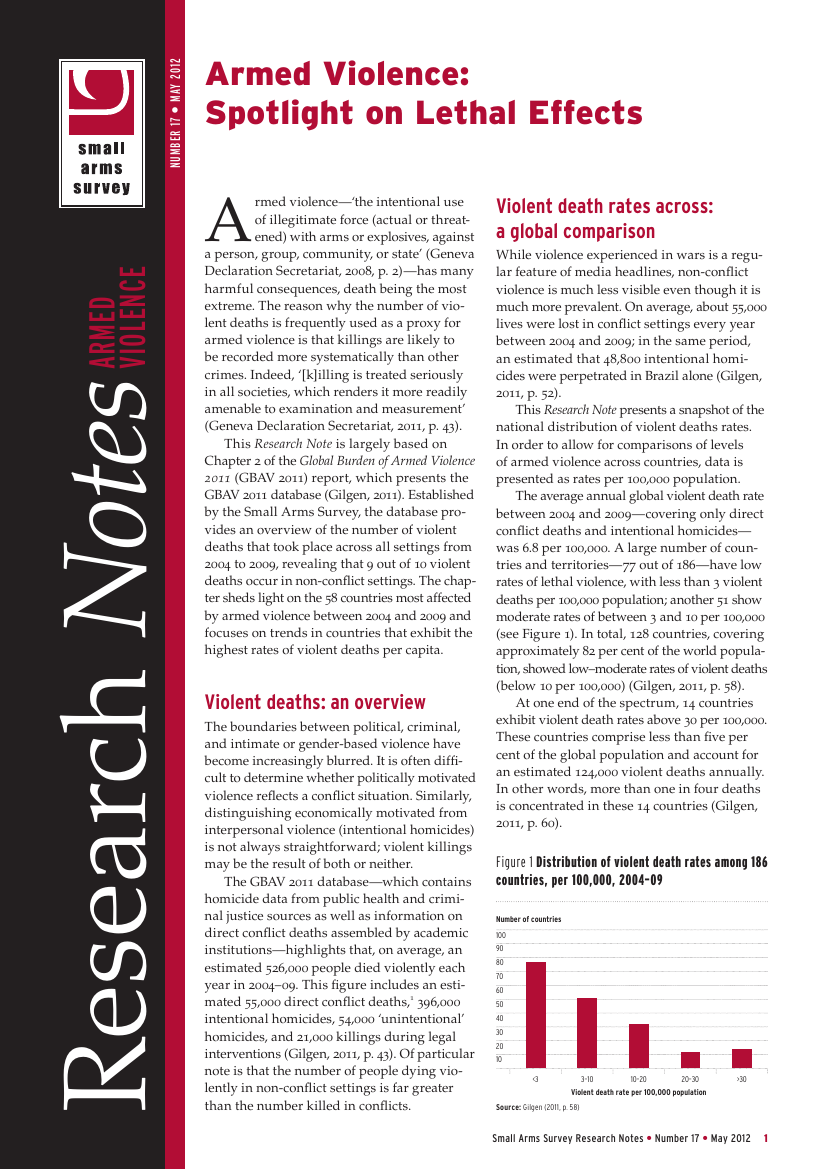 Armed Violence: Spotlight on Lethal Effects (Research Note 17)
Publications
Research Note
On average, an estimated 526,000 people died violently each year in 2004–09. This figure includes an estimated  55,000 direct conflict deaths, 396,000 intentional homicides, 54,000 'unintentional' homicides, and 21,000 killings during legal interventions. Far more people died violently in non-conflict settings than were killed in conflicts.
The number of violent deaths is frequently used as a proxy for measuring armed violence, because killings are likely to be recorded more systematically than other crimes.
Armed Violence: Spotlight on Lethal Effects is a Research Note from the Small Arms Survey and the Geneva Declaration on Armed Violence and Development, offering a snapshot of the Geneva Declaration's Global Burden of Armed Violence 2011 (GBAV) database of global information on violent deaths. The Research Note condenses material previously published in the GBAV.
The database covers violent deaths that took place across all settings from 2004 to 2009, and reveals that 9 out of 10 violent deaths occur in non-conflict settings.
The Research Note sheds light on the 58 countries most affected by armed violence between 2004 and 2009, and focuses on trends in countries that exhibit the highest rates of violent deaths per capita.
Have your say about Small Arms Survey publications and products: take 5 minutes to fill out our questionnaire.
Keywords:
Violent deaths
Homicides
GVD