-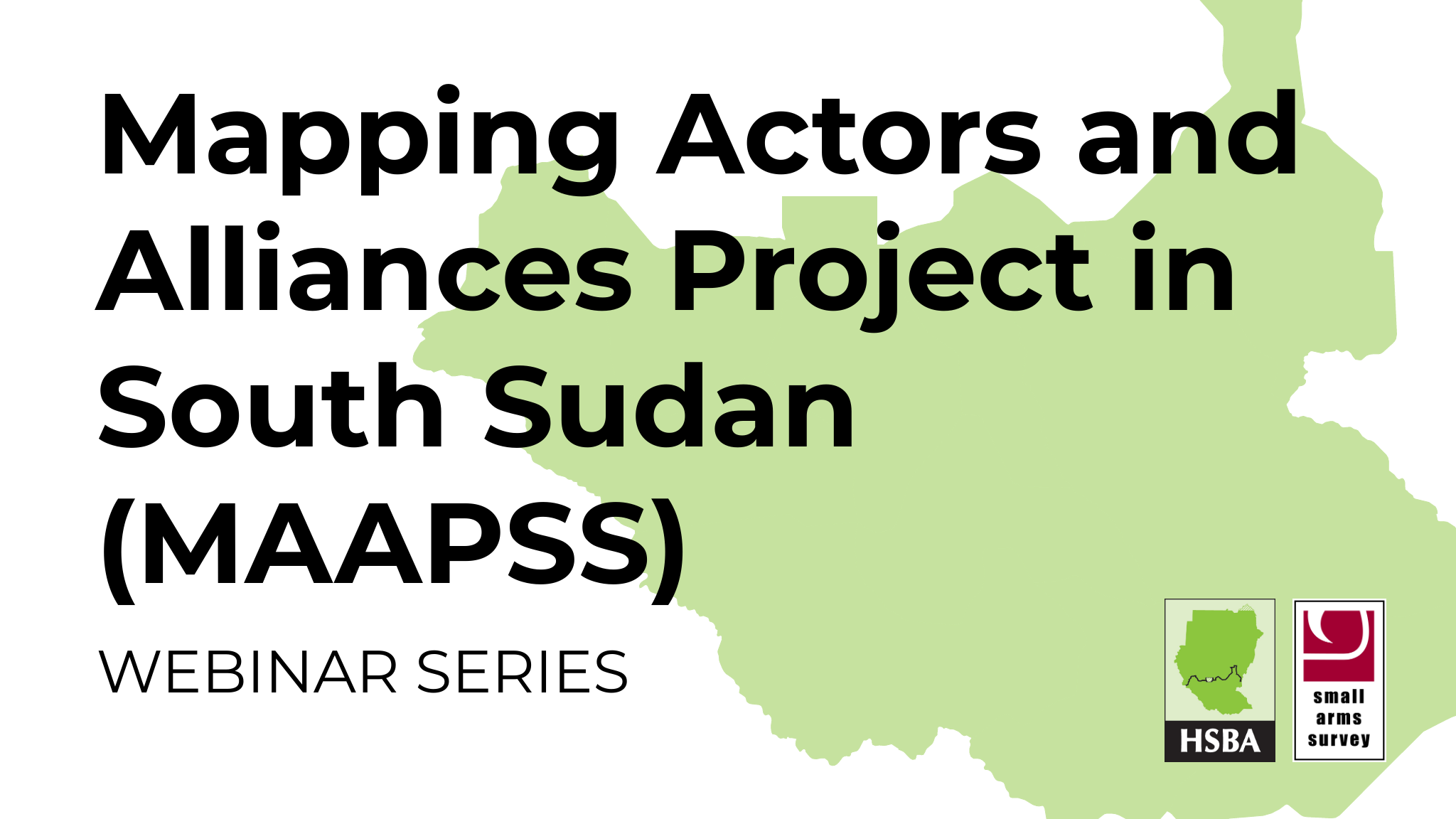 Public Event
Online (via Zoom)
HSBA MAAPSS webinar series
The Small Arms Survey's Human Security Baseline Assessment for Sudan and South Sudan (HSBA) project hosts regular webinars for its Mapping Actors and Alliances Project in South Sudan (MAAPSS). MAAPSS is an online database that provides profiles of over 700 individual actors and armed-groups in South Sudan. For its webinar series, the project invites South Sudanese and other international experts to discuss South Sudanese political and conflict dynamics, and a wide range of issues affecting South Sudan. Videos of each webinar are available on the Survey's YouTube channel.
Stay tuned to our social media channels (Twitter, Facebook, LinkedIn) for news on upcoming webinars and other MAAPSS activities and releases.
Find more webinar details and links to the videos below.
---

Ruweng and Pibor Administrative areas
4 November 2021 — Webinar
Throughout much of South Sudan, mono-ethnic administrative areas are an espoused desire. In a moment in which the South Sudanese state has failed to provide security or development, many communities are demanding autonomous control of their own affairs. Yet both the Ruweng Administrative Area and the Pibor Administrative Area offer cautionary tales of the promise of mono-ethnic autonomy. This webinar focused on the promise and perils of mono-ethnic political organization in South Sudan today, and the likely political developments that tomorrow will bring.
---

The split of the Sudanese People's Liberation Army – in Opposition (SPLA-IO)
26 August 2021 — Webinar
The webinar analyzed the recent split in the Sudan People's Liberation Army in Opposition (SPLA-IO), at a state-by-state level. The webinar also gave attention to the way the SPLA-IO split has affected alliances in Sudan, and how the split is in turn transformed by the ongoing tensions between Hemedti's Rapid Support Forces (RSF) and the Sudanese army. Our guest panelist was Bol Gatkouth, a former member of South Sudan's parliament and contributing researcher to several HSBA publications on the SPLA-IO.
---

South Sudan's 10th Anniversary
29 July 2021 — Webinar
This webinar provided reflections on the past ten years since South Sudanese independence in 2011 and discussed what the future may bring for South Sudan. . Joshua Craze moderated the discussion with Alan Boswell (International Crisis Group), Brian Adeba (The Sentry), David Deng (Human rights lawyer), Nyagoah Tut Pur (Human Rights Watch) and Ferenc Dávid Markó (Small Arms Survey).
---

Jonglei State
10 June 2021— Webinar
Small Arms Survey researcher Ferenc Marko unpacked conflict-related issues in Jonglei and the Greater Pibor Adminstrative Area (GPAA), including current political dynamics, youth forces' command structures, and linkages between localised violence and political elites. Pauline Eloff of the World Food Programme provided her insights into ongoing peace initiatives in the state and provided views on prospects for sustainable reductions in inter-communal violence in Jonglei and the GPAA.
---

Upper Nile State
20 May 2021 — Webinar
Joshua Craze, along with Saadia Aleem and David Deng, both human rights experts, discussed protection issues raised by recent returns of displaced people in Upper Nile, how returns more broadly should be organized in South Sudan in the run-up to the proposed census in 2022, the political issues such movements raise, and what role international organizations have in supporting returns.
---
Unity State
1 April 2021 — Webinar
Focused on Unity state, the webinar provided an overview of state- and county-level political appointments, as well as an analysis of broader political dynamics within Unity, including on:
    Current violence in Koch county
    Unrest and alienation amongst the SPLA-IO in southern Unity
    The intricacies of Bul Nuer power politics in Mayom, Juba, and Bentiu