-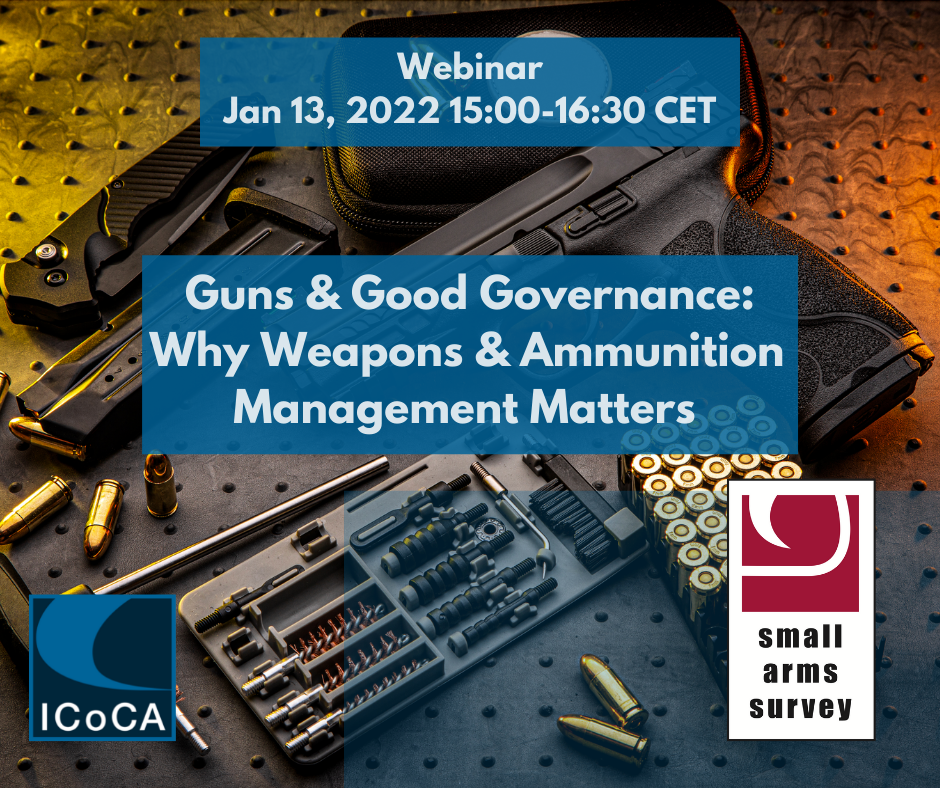 Public Event
Online (via Zoom)
Guns & Good Governance: Why Weapons & Ammunition Management Matters
Thursday 13 January, 2022 - 15:00-16:30 CET  |  Webinar (registration link below)
Paragraphs 56 to 58 of the International Code of Conduct lay out commitments concerning management of weapons while paragraph 60 to 62 concern the management of ammunition. What are the challenges private security companies face in putting these commitments into practice, and what are the challenges in verifying companies are complying with their commitments?
Over the last nine months, with the support of the Swiss Government, the Small Arms Survey, in partnership with ICoCA has been investigating these questions. Join us for an informative session (registration needed) that will bring you up to speed on the findings of the research and how these are being used to inform more detailed assessment of ICoCA Member and Affiliate companies. A panel discussion will follow the project presentation, where we'll ask experts, among other questions:
What are the potential risks and impacts of the mismanagement of weapons and ammunition?
How do current regulatory frameworks support the responsible management of weapons in high risk and complex environments?
How should weapons be defined, and who is thinking about the responsible management of non-lethal weapons?
---
Moderator:
Chris Galvin, Head of Communications & Outreach, ICoCA

Panelists:
Adrian Foster, Strategic Project Advisor, Small Arms Survey
Martina Gasser, Federal Department of Foreign Affairs, Government of Switzerland
Liam Kelly, Chief Operating Officer, G4S Risk Management
Michelle Nyandong, Program Officer, Life and Peace Institute
TBD, United Nations Office of the High Commissioner for Human Rights